JEWELRY DESIGN DISCUSSION SEMINAR
JEWELRY DESIGN DISCUSSION SEMINAR
Product Description
Jewelry Design Discussion Seminars @Be Dazzled Beads
BE DAZZLED BEADS


JEWELRY DESIGN DISCUSSION SEMINARS
2018 - 2019 Schedule
"Why do some pieces of jewelry draw your attention, and others do not?"
JEWELRY DESIGN DISCUSSION SEMINARS
Beaders' Circle / Meetup Group
One Saturday each month, usually the first Saturday
...Discussion Seminar on a Jewelry Design Topic, from 1-2:30pm
Anyone can come. Limited to 12 particiants. No fees. Bring your own lunch.

For each discussion seminar, PLEASE RSVP to Warren that you will be coming, so he can have sufficient materials ready. Phone (615-292-0610), or Email (warren@landofodds.com). -- Thanks.
The Jewelry Design Discussion Seminars are monthly discussions of important topics related to the idea of "Good Jewelry Design". What is it? How does it come into play? How do we empower good jewelry designers? How does good jewelry design influence what materials we select or what techniques we select?
"Jewelry is art, but only art as it is worn. That's a powerful idea, but we somewhat ignore it, when thinking about making jewelry. We like to follow steps. We like to make beautiful things. But too often, we avoid having to think about the difficult choices and tradeoffs we need to make, when searching for that balance among aesthetics, functionality, context, materials and technique.

Good jewelry design must answer questions and teach practitioners about managing the processes of selecting materials, implementing techniques, and constructing the piece from one end to the other. We tend to teach students to very mechanically follow a series of steps. What we should be doing, instead, at least from the Design Perspective is teach students how to make choices when managing at the boundary between jewelry and person."

-- Warren (my soapbox about Good Jewelry Design)


While the topics are all interrelated, they are presented somewhat independently, so it is not necessary to have participated in previous seminars in order to take the next one.
Discussion Format:
1. Define the basic ideas underlying the topic and pose series of questions for guided discussion
2. Examine examples of jewelry and how the topic might come into play
3. Identify consequences if we lose sight of a concise understanding of good design
4. Summarize things learned today
What you will need to bring...
- Paper and Pencil
---
JEWELRY DESIGN DISCUSSION SEMINARS
Upcoming dates...

(Don't forget to RSVP to Warren that you are coming). Anyone can come. Limited to 12 participants.
It is not necessary to have participated in previous seminars in order to take the next one.
2018 - 2019 SCHEDULE
____________________________________
JEWELRY DESIGN DISCUSSION SEMINARS
2018 Series: "GOOD DESIGN"
---
Sat, 1/6/18, 1-5pm No seminar planned today
---
Sat, 2/3/18, 1-2:30pm
TOPIC: GOOD DESIGN:
Why do some pieces of jewelry draw your attention, and others do not?
What does it mean to be "fluent in design"?


---
Sat, 3/3/18, 1-2:30pm
TOPIC: CONTEMPORARY DESIGN:
How does our contemporary expectations for design differ from traditional ones? from fashion, style and taste?


---
Sat, 4/7/18, 1-2:30pm
TOPIC: COMPOSITION:
What are the kinds of principles you need to follow or help guide you in order to get a Good Design?


---
Sat, 5/5/18, 1-2:30pm
TOPIC: MANIPULATION:
What strategies work best when manipulating principles of good design? How can the designer create jewelry which reflects the artist's hand?


---
Sat, 6/2/18, 1-2:30pm
TOPIC: RESONANCE:
To what extent can the artist enhance how a piece of jewelry evokes an emotional response?


---
Sat, 7/7/18, 1-2:30pm
TOPIC: BEADS AND COLOR:
How does the bead assert its need for color? How do the gaps of light between beads, and the various positive and negative spaces that a piece of jewelry displays affect a person's appreciation for the piece? What if we defined "jewelry design" as the manipulation of light and shadow? What kinds of things about color related to jewelry and beads do not get covered in a typical art class?


---
Sat, 8/4/18, 1-2:30pm
TOPIC: POINTS, LINES, SHAPES, FORMS, THEMES:
How do you get from one bead, to two beads, then several beads, then a type of shape or pattern or texture, to something that gets recognized by shape, form or theme? How do you best define, create, and use components, forms and structures?


---
Sat, 9/8/18, 1-2:30pm
TOPIC: ARCHITECTURAL BASICS:
What kinds of things can you do to structures within your pieces to enhance, movement, drape, flow, and durabaility? What does it mean to manage "support" within a piece? How can you build in architectural features like parabolic arches? How might the physicality of wearing jewelry equate to personal confidence?


---
Sat, 10/6/18, 1-2:30pm
TOPIC: APPLICATIONS: CONTEMPORIZING TRADITIONAL JEWELRY:
How does our contemporary expectations for design differ from traditional ones? from fashion, style and taste?
What does it mean to "contemporize" traditional jewelry? What makes the "traditional" stand apart from the "contemporary"? Does the jewelry artist do something different when making a piece that would clearly be seen as contemporary, and not traditional?


---
Sat, 11/3/18, 1-2:30pm
TOPIC: APPLICATIONS: MIXED MEDIA/MIXED METHODS:
How do you best manage the processes of selecting materials and selecting techniques? How can mixing media or techniques help or hinder the success of your jewelry design?


---
Sat, 12/1/18, 1-2:30pm
TOPIC: APPLICATIONS: DESIGNING AN UGLY NECKLACE:
Can you put together a well-designed and functional, yet UGLY, necklace? It's Not Easy To Do Ugly! Your mind and eye won't let you go there. As research into color and design has shown, your eye and brain compensate for imbalances in color or in the positioning of pieces and objects – they try to correct and harmonize them. You are pre-wired to subconsciously avoid anything that is disorienting, disturbing or distracting. Because of this, any jewelry designer who attempts to achieve "Ugly," has to have enough control and discipline to override, perhaps overcome, intuitive, internally integrated principles of good design. So...Can you do it -- Can you design a necklace that is ugly, hideous, unsatsifying and what have you?






---
JEWELRY DESIGN DISCUSSION SEMINARS
"Becoming the Fluent and Proficient Jewelry Designer"
2019 SCHEDULE
Everyone knows that anyone can put beads and other pieces together on a string and make a necklace. But can anyone make a necklace that draws attention? That evokes some kind of emotional response? That resonates with someone where they say, "I want to wear that!"? That wears well, drapes well, moves well as the person wearing it moves? That is durable, supportive and keeps its silhouette and shape? That doesn't feel underdone or over done? That is appropriate for a given context, situation, culture or society?
True, anyone can put beads on a string. But that does not make them artists or designers. From artists and designers, we expect jewelry which is something more. More than parts. More than an assemblage of colors, shapes, lines, points and other design elements. More than simple arrangements of lights and darks, rounds and squares, longs and shorts. We expect to see the artist's hand. We expect the jewelry to be impactful for the wearer. We expect both wearer and viewer, and seller and buyer, to share expectations for what makes the jewelry finished and successful.
---
Saturday, January 5, 2019
TOPIC: WHAT IS JEWELRY, Really?

What is it about jewelry that people see and value enough to want to buy it and wear it? What are the expressive qualities, roles and powers of jewelry? What are the problems jewelry presents, and what kinds of solutions can jewelry designers come up with?




---
Saturday, February 2, 2019
TOPIC: IS JEWELRY MAKING TEACHABLE, or merely Intuitive?

What are all the things that the subject matter of jewelry making and design include? How do these things assist the designer in engaging in authentic, challenging work, so that their products have value in and out of their studio space? How does the designer create an instructional path for learning?




---
Saturday, March 2, 2019
TOPIC: CAN I SURVIVE AS A JEWELRY ARTIST?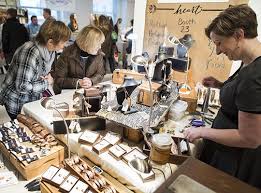 At what point do you begin to label yourself as a Jewelry Artist? How do you continue to survive as one? Survival requires an understanding of the way things work. Let's review how things work in making, presenting, selling, reflecting and critiquing. Who do you design for? What are some norms, beliefs, philosophies, values, organizations, relationships, tools, knowledge, personalities that come into play and have to be negotiated with or negotiated around?



Saturday, April 6, 2019
TOPIC: CREATIVITY ISN'T FOUND, IT IS DEVELOPED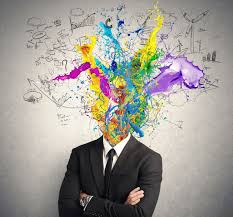 What is creativity? How do you know you have it? How do you define and develop your passion? Why turn ideas into wearable objects? How does the artist translate inspirations into aspirations into final products? How do you decide what you want to create? How do you convey your ideas to others? Which weighs more: the piece of jewelry itself, or the reason why it was created? How do we anticipate what might happen when we expose our creative products to others?
Saturday, May 4, 2019
TOPIC: JEWELRY DESIGN MANAGEMENT, a Process


It makes more sense, and leads to better success on all levels, when jewelry artisans redefine jewelry design, not merely as a creative endeavor, but as a managed process, as well. What do we mean by managed process? What's involved, how is it organized, how is it implemented? What clues do we look for to reassure us that we are managing appropriately and in the right direction?
Saturday, June 1, 2019
TOPIC: EVOKING EMOTIONAL RESPONSES AND RESONANCE

Beyond applying basic techniques and selecting quality materials, how does the jewelry designer evoke an emotional and resonant response to their jewelry? Quite simply: No emotional response, then the jewelry is poorly designed. What skills are involved which enhance the designers capacity to evoke emotions and achieve resonance?



Saturday, July 6, 2019
TOPIC: THE MULTIPLE RESPONSIBLITIES OF BEING A PROFESSIONAL JEWELRY ARTIST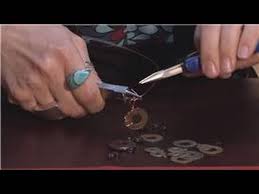 Should I consider myself a "professional"? What does that mean? What are the different responsibilities a professional jewelry artist has? How should they organize their work? How should they expose their work to various audiences? What kinds of things do professional jewelry artists do to show their artist' hand and have their work recognized as their own? How do exhibiting, pricing, portfolios and promotion come into play?


Saturday, August 3, 2019
TOPIC: YOUR WORK SPACE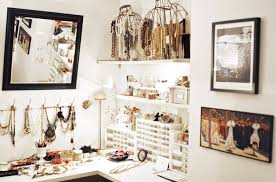 How do you organize an efficient and effective work space within which to make your jewelry? What are the materials and tools you need, and how do you place and store them? What kinds of work tables, benches, drawer units, pegboard, and the like lend themselves to make designing easier? How do you create a working space comfortable for you to work from a palette of colors, parts and materials?
Saturday, September 7, 2019
TOPIC: DESIGN THEATER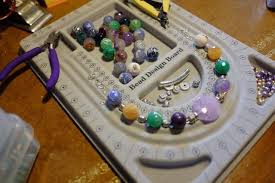 We are going to individually design a necklace as a rough sketch on paper, and, then, articulate, in a Think-Aloud format, as best as possible, our inspiration, what we were thinking, the design choices about materials and techniques we made, and why. It is important to develop skills which allow us to be very metacognitive of all that we do.
Saturday, October 5, 2019
TOPIC: OVERCOMING DESIGNER'S BLOCK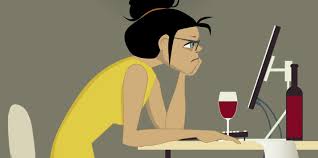 A lot of time can pass between having a creative inspiration and executing it. The creative process can be very emotional. How does the artist maintain sufficient motivation and perseverance during this timeframe? What is Designer's Block, and what kinds of things can we do to overcome it? What are some Patience Boosters? How do you know when your piece is finished? How do you edit?
Saturday, November 2, 2019
TOPIC: FASHION, STYLE, TASTE or ART?

What are the differences among Fashion, Style, Taste or Art? How important are these to what we do as jewelry designers? How should we adjust what we do in reference to these? Why is training in fashion or art insufficient for jewelry design?


Saturday, December 7, 2019
TOPIC: THREADING THE BUSINESS NEEDLE

For people who sell their jewelry, their art is both a business as well as a source of creativity and self-expression. How does someone get started selling their pieces? What business fundamentals need to be brought to the fore? How does the creative person develop and maintain a passion for business? What similar traits to successful jewelry business share? How do you protect your intellectual property?



BE DAZZLED BEADS
718 Thompson Lane, Ste 123 Nashville, TN 37204
615-292-0610
website: www.bedazzledbeads.com
email: warren@bedazzledbeads.com
blog: http://blog.landofodds.com
VIEW OUR CALENDAR SCHEDULE ONLINE
YOU CAN REGISTER FOR CLASSES ONLINE:
www.bedazzledbeads.com
SIGN UP FOR OUR VARIOUS NEWSLETTERS ONLINE:
www.bedazzledbeads.com (Scroll to bottom of page for sign-up form)
SUPPORT YOUR LOCAL BEAD STORE!!!
Product Reviews
Find Similar Products by Category
Customers also viewed